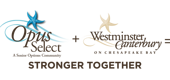 Your Review
Submit a Review

Resident Reviews
|Recommended: YesI love this community and the apartment I live in. The office staff is always cheerful, friendly and helpful. Maria is great in solving maintenance problems and Faith always has a smile on her face while keeping our complex sparkling clean. Pam provides a number of activities to keep us fit and busy and our minds active. All in all Opus Select is a great place to live.
|Recommended: YesOpus Select is a wonderful place to live. There are so many activities to choose from. My favorites are the exercise classes in gym and pool, Pickleball, Pokeno, Mahjong, Book Club, and The Men's Club parties to name a few. There truly is something to do for everyone. The staff is fabulous, always willing to help in any way they can. Their smiles are infectious. This has been a great living experience after selling my house. I love meeting new residents and hearing their stories.
|Recommended: YesOpus is a wonderful community not just a place to live. I recommend Opus to anyone looking for a great place to live.
|Recommended: YesI am feeling very comfortable here. I have always loved my apartment, but now I love management and the staff too.
|Recommended: YesIt's a wonderful place to live
|Recommended: YesOutstanding way of life provided and supported by the enthusiastic and always ready to please staff. Plenty of amenities and fun loving friendly neighbors. Ten stars for all around living comfort and kindness. Opus select will always have a special place in our hearts
|Recommended: YesOpus Select is a beautiful apartment community It has a dream team staff that genuinely want to please you and to make your life better, more joyful. There are many wonderful social and fitness activities to keep you going all the time. Pickle ball, ping pong, water aerobics and volleyball, yoga, canasta, movies, and art classes just to name a few. Special shout out to Pam that makes exercising fun If you want to feel like a kid again, Opus Select is your place
|Recommended: YesWe love this place based on the following 1. Continental breakfast is great and continues to improve. Go Pam. 2. Building Grounds a. new umbrellas b. fresh black paint on tables chairs c. two bushes moved from pool deck to outside garden Go Maria
|Recommended: YesA gem, located next to the Chesapeake Bay sandy beaches, Opus Select is ideal for those looking for beautifully appointed accommodations a calendar full of tailored activities designed for 62 active adults. Most important, however, is the responsive dedicated Opus Select staff who you will find in all areas of our community ensuring that everything is in order. My husband I can't say enough about Tory, Emily, Samantha, Pam, Maria Faith who contribute so much to our joy and wellness.
|Recommended: YesOpus Select is a fantastic beach front community I can't say enough nice things about Emily and Samantha in the management office. They went out of their way to make me feel welcome and to introduce me to the community. All of the staff and residents are very friendly. With a wonderful outdoor pool, and a fully outfitted exercise and weight room and regular water aerobics there are plenty of opportunities to help you stay fit. A short 200 foot walk to the beach brings you to gently lapping water on a clean sandy beach with a very gentle slope into the water. This is a great community for young seniors still looking for fun activities and friends. Check this out before looking anywhere else
|Recommended: YesBeautiful location and affordable rental units for seniors. Staff is attentive and neighbors operate as a community. Great area for beach living
|Recommended: YesI am so busy enjoying the wonderful amenities I barely have time to write this review. First we love out apartment after being in our home for 43 years. Second this would not be possible without the wonderful staff assembled by Tory. Thank you Tory
|Recommended: YesWhen I walked in the door at Opus Select, I knew I was home Everything about it felt good but it wasn't until I lived here that I knew I had found an ideal location for my retirement years. I have the opportunity to challenge myself daily on multiple levels and enjoy so many amenities that are a result of the hybrid situation with Westminster Canterbury by the Bay. I couldn't ask for anything more appealing physically, mentally, and or socially. And the staff assures our positive and pleasurable experiences.
|Recommended: YesThis is an outstanding apartment community for seniors. Wonderful location next to the Chesapeake Bay, and close to Seashore State Park with a quick drive to the oceanfront. Good responsive, welcoming and friendly management, well maintained interior and exterior spaces, many safety features with good maintenance plus a parking garage, multiple amenities including lots of activities to choose from, outdoor pool, beautifully decorated clubhouse, balconies in all apartments, garden terrace with individual growing spaces, multiple floor plans and much more. Relatively quiet interiors even with being adjacent to Shore Drive. Rents are high everywhere in this area, but at least here it is worth it A staff that treats you with respect and like family is hard to find